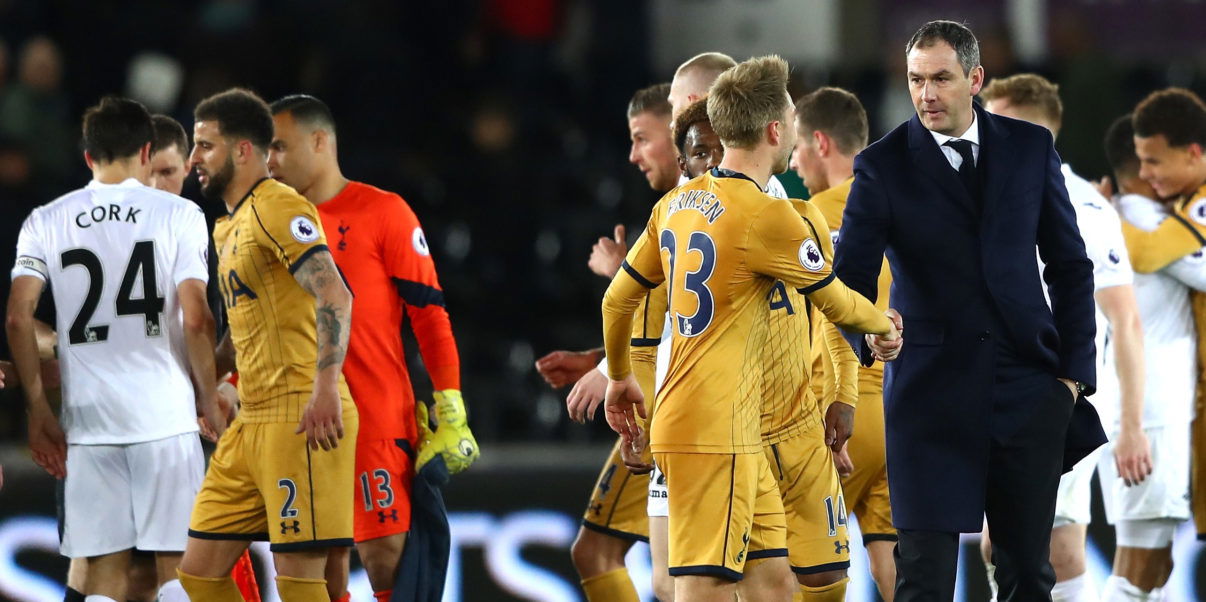 Reasons for optimism as Swans sink deeper into trouble
Skepticism, delight, optimism, contentment and absolute agony. These are all emotions experienced by Swans'
everywhere last night, as what looked to be an unexpected three points turned in to the most harrowing loss of the season – and that's saying something.
A goal to the good with only fifteen minutes to play, the Liberty Stadium crowd were even treated to a long-awaited appearance from Oli McBurnie before their big push towards Premier League safety was shot down by Spurs.
The circumstances in which the game ended were a huge blow, but perhaps not too much of a coincidence. Kyle Naughton picked up a knock meaning Leroy Fer dropped back to replace him, and although that wasn't the main contributing factor to conceding three goals in seven minutes, it's hard to argue against it having an impact.
Although, as I sit here trying my very best to avoid watching Match of the Day for the second time this week, I thought I'd try and cheer myself up by focussing on a potentially positive next couple of weeks for Paul Clement's side.
The immediate future brings us to Saturday, where the Swans face West Ham at the London Stadium. The Hammers have only won once at home this calendar year; in fact, they've only one three times in total since New Year's Day, and are in something of a crisis having lost five games on the bounce. I know the Swans' away form isn't great, but this is a game that we really should be looking to target.
This game becomes all the more exciting with the prospect of Fernando Llorente returning from injury, and while nothing is set in stone, Paul Clement has said previously that he expects the Spaniard to be available for selection come the weekend.
Another huge factor to consider going into Saturday's games is that Hull – who beat Middlesbrough yesterday to send the Swans into the bottom three – face Manchester City at the Etihad Stadium. Man City aren't in great form but without wanting to jinx it, they should be able to see off the Tigers, giving us the opportunity to leapfrog them into 17th place.
Speaking of our relegation rivals, a glance at Crystal Palace's fixture list is enough to fill even the most pessimistic of Swans' fans with a slight ounce of hope. They face Arsenal on the weekend, and have games against Leicester, Liverpool, Tottenham, Man City and Man Utd all to follow. Throw in a game against Hull to the mix, and all of a sudden Crystal Palace's recent run of form looks to be even more important than it first seems.
Closer to home, there were some positives to be taken out of yesterday's game. Jordan Ayew was good in the first half and showed that, when we adapt our play style accordingly, there is a 'plan B' in there somewhere. McBurnie's arrival into the game was met with a fantastic reception from the home fans, which the young Scot almost justified instantly, but it wasn't to be.
Twitter: On a personal note what a reception from the fans, really appreciate it from every one of u. Thank u❤ (@oli_mcburnie)
Fernando Llorente's recent injury problems should be coming to an eagerly anticipated end this week, which will once again give us a focal point to work with up front. Wayne Routledge's performance on the day he broke a club record for Premier League appearances was commendable, and the fight in Lukasz Fabianski – who opted to stay on the field after a clash with Vincent Janssen – showed that they players are still battling for each other, if nothing else.
The future may look bleak at the moment, but you only have to look back a month to times where pundits across the country had already decided that we were guaranteed to stay up.
It's a funny old game, and we've had to learn that the hard way. With plenty of points left to play for, let's hope that the season's worth of lucky bounces and referee decisions that we're long overdue are cashed in fairly soon.
---